iOS ArcGIS Collector 10.4 with the Bad Elf GNSS Surveyor
I've wanted to try ArcGIS Collector with the Bad Elf series of devices to see how it stacks up against some other external GPS/GNSS. I've read some great reviews, but needed to try it with Collector to see for myself. Well, send Larry from Bad Elf to the rescue.  His confidence in the Bad Elf devices is very high, so much so, he sent me a Bad Elf GNSS Surveyor to test out. And now - I understand where his confidence comes from.
Update 2016-11-08: GNSS/GPS hardware pricing corrections.
Setting up the Bad Elf GNSS Surveyor
The setup was straightforward on the iOS devices I tested with: iPad, iPad w/ 3G, iPhone 6. You can pretty much hook up the Bad Elf in the same way you would connect most other external GNSS with Collector:
Setup the bluetooth pairing (iOS settings > Bluetooth)
Open the ArcGIS Collector 10.4 App
Go to the settings screen and select Providers (Action button > Settings > Providers)
Add/Select the Bad Elf provider
Collect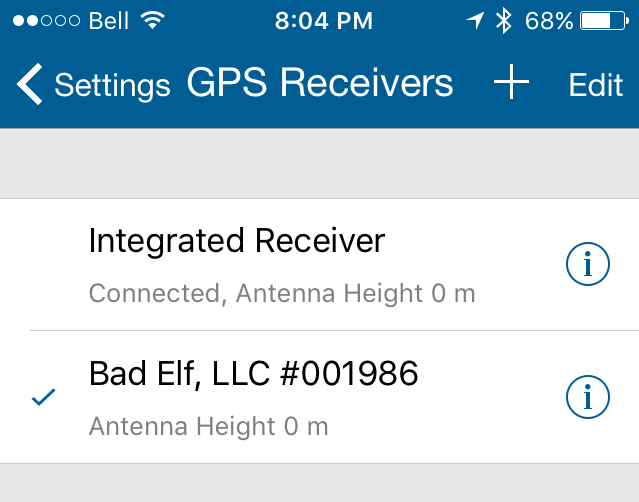 ArcGIS Collector Provider Settings
Collector Providers aren't all the same
As you are probably aware, you also have the option to use the 'Integrated Receiver' provider in Collector on iOS devices. You can actually use this option with the Bad Elf as well but it isn't recommended (not recommended for any external GPS/GNSS for that matter).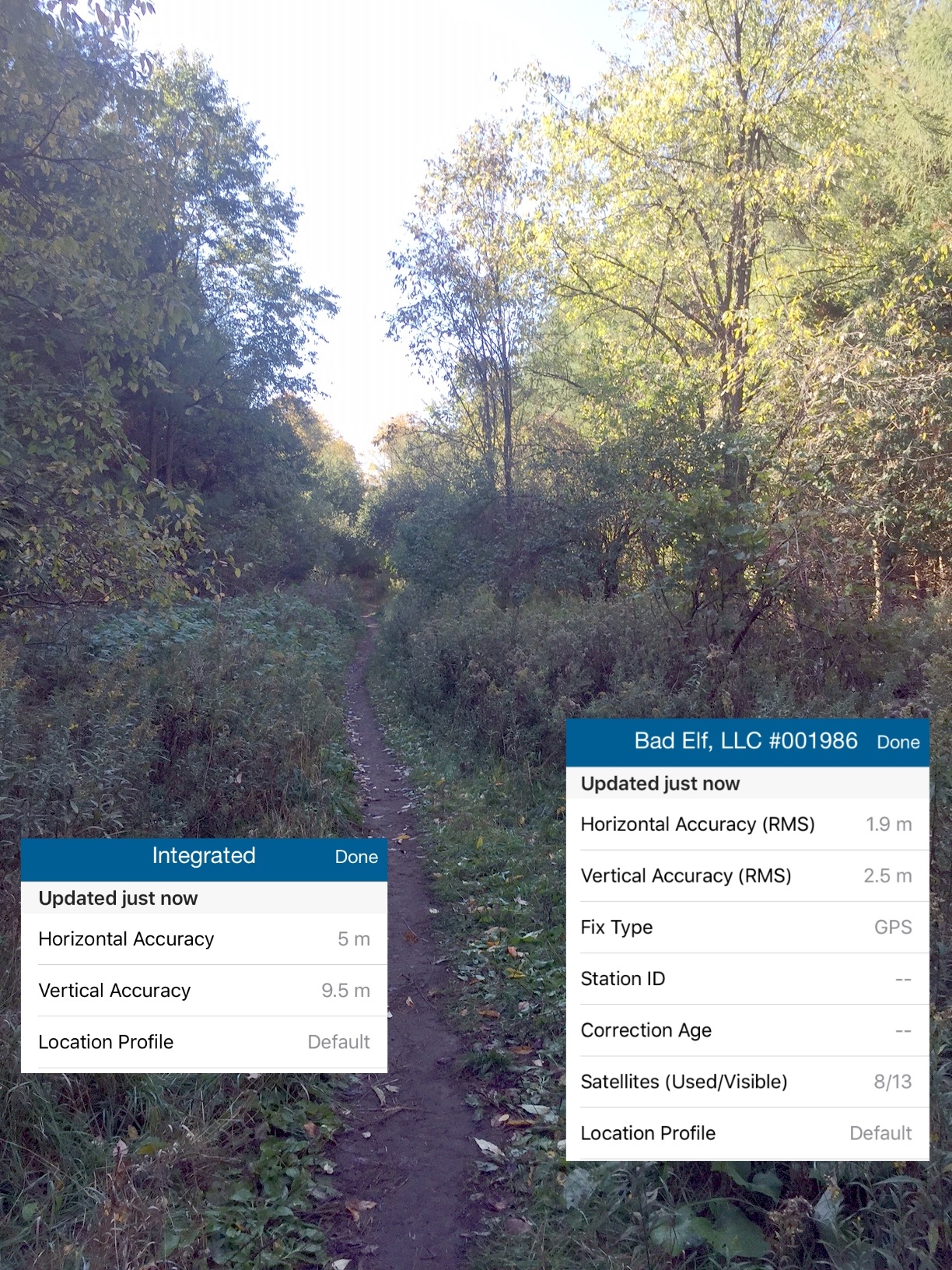 Collector Bad Elf GNSS vs. Integrated Provider on the trail (medium canopy)
Why not you ask? The Integrated Receiver is really just letting iOS Location Services manage the location profile. iOS Location Services can communicate with WIFI, Cellular, internal GPS, and external GPS devices in order to determine the best location signal to use. Sounds great - but there are two main issues when using this approach with ArcGIS Collector:
The details of Collector's Location Accuracy window will currently max out at 5m for iOS Location Services. The actual accuracy might be better, but Collector will still show 5m in the Location Accuracy Window. Although if using a Bad Elf GNSS device you can still check the LED screen to verify the accuracy.
You don't actually know which input signal is being used (GPS? Cellular? Other?): If you purchase an external GNSS, you probably want to know if it's being used. I had a Glo battery drain and the only way I noticed was the Collector Location Accuracy window was hovering around 8.5m to 10m under canopy.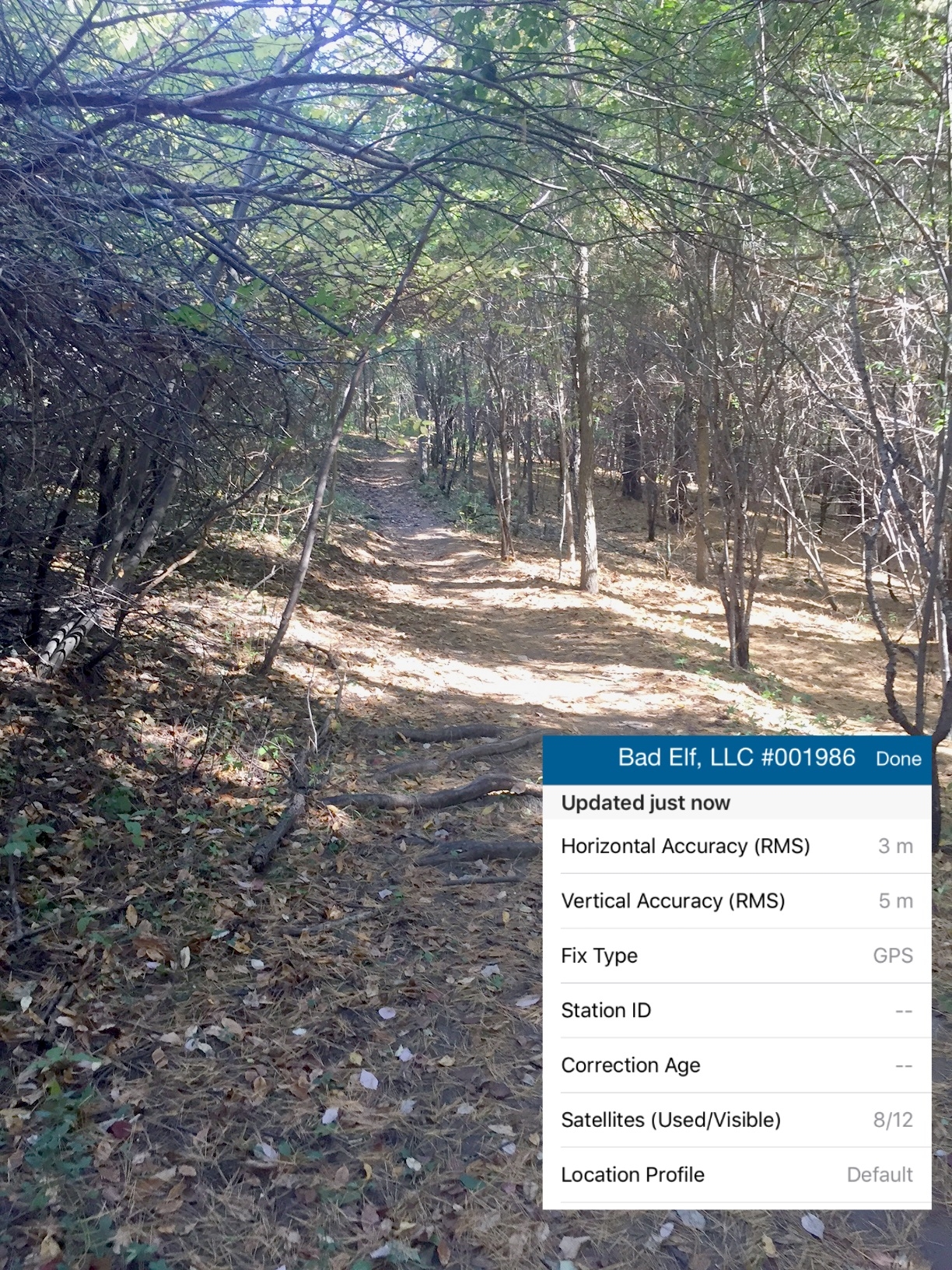 Collector Bad Elf GNSS on the trail (dense canopy)
Bad Elf, please stand up
The Bad Elf GNSS Surveyor really does stand out from the crowd. The LED screen provides a huge amount of information on accuracy, number of satellites, Bluetooth status, and even allows for data logging on the device. I didn't think I would use the LED screen very much since I use Collector, but it was great for quickly verifying battery life, and accuracy (and didn't have one on my last GNSS device). That said, I will be hard pressed to go screenless again - as any questionable readings I see in Collector can easily be verified by the device itself.
A subtle yet refreshing addition is the Bad Elf App for iOS (available for free in the App Store). It has a clean design with the same information you can see on the LED screen, and has the ability to easily change device settings and perform firmware updates  - checks when they are available and deploys the updates with the click of a button. This means no desktop PC is needed for changing settings, or providing upgrades.
Accuracy and Price
When it comes to using ArcGIS Collector and high(er)-accuracy GNSS, there are way too many factors to get into for one article. The 1cm to 50cm devices are for very specialized use cases and definitely not covered here. Overall the level of accuracy required will vary by required use. Price is also a factor for many, and there is definitely an Accuracy-to-Cost ratio that needs to be taken into consideration (along with RTX services and fees).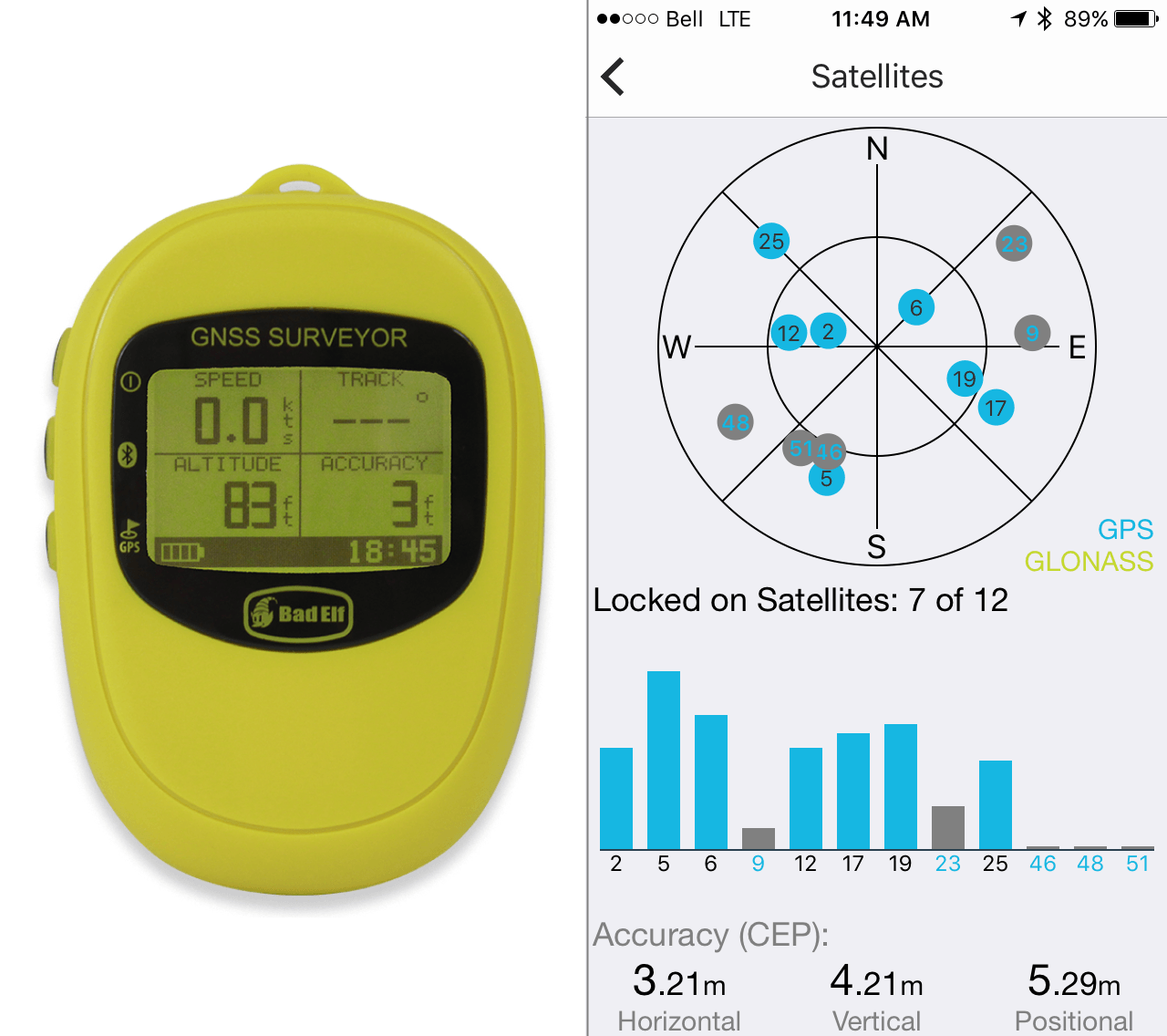 Bad Elf GNSS Suveyor
The Bad Elf GNSS Surveyor is in a very unique position when looking at the Accuracy-to-price ratio. A stated "1.0m Stationary Accuracy" (real-time) will cost $599.99 USD, it's hard to compare to other devices as there aren't many ~1m devices on the market. None of the other big players come close to this price in the meter/submeter zone (50cm - 1.5m): $1895.00 USD (iSXBlue II+ GPS), 1995.99 USD (Arrow Lite), $2495.00 USD (Trimble R1), $2895.00 (iSXBlue II+ GPS). This all said, each device has its niche and specific features that can definitely justify different price points (external mount antenna, replaceable batteries, accessories, RTX add-ons, etc). Some of the more expensive devices can also be upgraded to 10cm, or even 1cm, so please take these comparisons with a grain of salt.
I realize the cost is more significant when compared to the likes of Garmin Glo's and DUAL's, but as mentioned earlier, these devices aren't really in the same competitive space - there are actually a few additional Bad Elf products (GPS Pro, GPS Pro+) that are much closer in accuracy/price if doing comparisons in the 2.5m-4.0m range. The good news is you still get the iOS app, LED screen, rugged case, and water-resistant features of the higher end Surveyor on the lower end devices too.
Summary
The Bad Elf GNSS Surveyor with ArcGIS Collector make a great team, and considering the level of accuracy and features: a good price. Collector and Bad Elf have a great thing going here and I look forward to seeing what the future may hold for this dynamic duo.
Bad Elf GNSS Suveyor - GNSS Specs:
~1 meter stationary accuracy with SBAS+PPP
2.5 meter accuracy while in motion
Up to 10Hz position update rate
Fast GPS lock times (45 seconds or less)
56-channel GPS/GLONASS/QZSS receiver
RTCM support
SBAS/WAAS/EGNOS/MSAS
Barometer for barometric altitude
Bright yellow enclosure to find easily outdoors
Bad Elf GNSS Suveyor - Device Specs:
IPX4 splash resistance
Barometric Altimeter
Access data logs directly from PC or Mac (USB)
Post-processing support via RINEX conversion available in the Bad Elf app
No internet connection or monthly subscription required
Bluetooth 2.1 technology + EDR

Range of 33ft (10m)
Support for 5 Simultaneous Connections

Battery

Up to 28 hours bluetooth connected, streaming GPS data, while data logging
Up to 32 hours while data logging
Additional Links: