Collector for ArcGIS 10.4.0 iOS
Collector for ArcGIS 10.4.0 iOS is now available in Apple's App Store. This is a major update for those hoping to use high-accuracy GNSS with their iOS device in the field. If this isn't enough of a reason to upgrade, or you are happy with your current Elf/Glo/Arrow/other, there are a few other enhancements which make this update a must.
One of the other additions in this release is the enhancements to attachments:
Preserve EXIF data on attachments (time, date, gps/compass info, etc)
Support for attaching additional file types (such as PDFs)
As for bugs, a few were fixed in this release for more niche users, along with more languages now supported in the application. Some of the bugs actually refer to the Windows version of Collector, which isn't actually release yet but shows what can be expected in the Windows release.
Setting up Collector for ArcGIS 10.4.0 iOS with your high-accuracy GNSS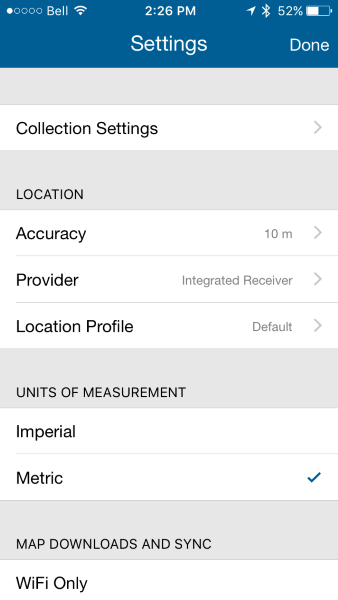 Collector for ArcGIS 10.4 settings page
You may notice the settings page for Collector for ArcGIS 10.4.0 iOS has also had some tweaks in order to accommodate more options. This is where you can configure your high-accuracy GNSS device.
Thankfully, this is a pretty painless process as long as you are aware of the details of your GNSS device and your Collector Map. Just add a new "Provider" (read/AKA: GNSS Bluetooth device), and a "Location Profile" (read/AKA: configuration/transformation from device-to-map setup). The Provider setup even allows for pole mount heights to be included directly without requiring any post processing.
The Location Profile's list of Geographic and Projected coordinate systems is very extensive. Thankfully there is a search/filter function, and my favourite feature: EPSG numbers (thank you whomever put that one in)! Not exactly sure how Collector can handle so many potential transformations but looks very similar to a PROJ.4 or Proj4JS type of setup - and we know Esri has recommended this approach for JS developers in the past.
Collector for ArcGIS 10.4 Profile setup
Depending on where you are working the one issue that you might come across is that some grid-based transformations are not currently supported. If you are in Canada, the options are very limited for the NAD83 CSRS to other map projection. Some of the omissions aren't because Esri doesn't want them there - but based on what IP owners will allow to be included by commercial vendors - so let's all work on making grid shift files more available while we are at it!
I hope in the future, Esri will list the supported/planned transformations as this could limit the use and/or value of having the high-accurate GNSS connected in the first place. That said, this is a great first step.
Another addition to hope for would be the listing in the online help of the grid-shift files that are used since this might help you decide which input<-> output projection to use based on what's available. As having a survey-grade GNSS in the field, you want to keep as much detail as possible, and using the wrong transformation might set false expectations with staff.
As for working in the USA, this looks to be a great starting point for using with your high-end GNSS. The popular Geographic and Projected coordinate systems are all listed, much like working in ArcGIS desktop. You shouldn't have a problem finding one that matches your GNSS or your map. Regardless of where you live, the best approach would be to have your map in the same coordinate system as your GNSS device so you don't even need to worry about grid shift files and transformations.
Should I Update to Collector for ArcGIS 10.4.0 iOS?
Yes! If you are using a high-accuracy GNSS device, you have been waiting for this update. Even if you aren't using a high-accuracy GNSS, it is more than worth the upgrade to keep EXIF information on your photos. The (listed) bug fixes are few, but there weren't many big bugs to fix for the iOS version. Overall this is a great release, and the biggest drawback is that it's currently only available for the iOS version. An update for both Android and Windows is expected to be released later in August.