ArcGIS Pro Layouts and Accessibility
Creating beautiful cartographic map layouts can be a difficult journey. Titles, fonts, and picking a north arrow that matches your design (much like your socks matching your belt). Yeah, those difficult decisions. Let's not forget the accessibility of our design as well. Forgetting accessibility during the design process is like forgetting the map title - it shouldn't happen. Accessibility should be part of the design process, not an afterthought. This will drastically reduce the time needed to remediate at the end and allows more people to enjoy your map. And yes, it's also a legal requirement in many jurisdictions - this is where it gets interesting.
This started as a simple article on making a great, and accessible PDF layout with ArcGIS Pro. However, I went too far down the rabbit hole, and we end up with this article. In short: ArcGIS Pro (at version 3.0.4) doesn't generate accessible layouts that meet Section 508 or AODA requirements. Note: An explaination to this statement is in the ArcGIS Pro section below. That said, ArcGIS Pro does have some accessible features and exports some PDF elements - which is a great start.
It helps when we have tools that support building and testing accessible layouts. As mentioned, ArcGIS Pro does have some layout "accessibility" tools, and they should expand over time. Adobe Pro has an "accessibility" checker to report on some accessibility issues. The problem is: "Accessibility" is a broad term. Neither ArcGIS Pro nor Adobe Pro is creating/checking WCAG 2.0 AA accessibility. What?!
Let's step back for a second.
Accessibility and Section 508, AODA, and WCAG
Accessibility is something we strive for and there are many different levels of accessibility. There are also differences between Section 508 and Web Content Accessibility Guidelines (WCAG) although all 3 terms are used interchangeably by some. Section 508 and WCAG are, in fact, quite different. Since I live in Ontario Canada, I'm adding AODA in there too - it will make sense later.
Section 508
Section 508 is a federal law in the United States. This law requires federal agencies and those receiving federal funds to acquire, develop, use, and maintain information and communications so people with disabilities can access it. In 2018, Section 508 was enhanced with updated requirements for information and communication technology (ICT). This update adopted WCAG 2.0 AA as the criteria for a website, electronic document, and software accessibility.
AODA
Accessibility for Ontarians with Disabilities Act (AODA). This is Ontario provincial law that sets out a process for developing and enforcing accessibility standards much like Section 508. Public content must meet the WCAG 2.0 AA success criteria. There are 2 exceptions, but they don't apply to our PDF map layouts.
WCAG
Web Content Accessibility Guidelines (WCAG) were "developed to provide a single shared standard for web content accessibility that meets the needs of individuals, organizations, and governments internationally" W3.org. These guidelines have been adopted for digital documents (Word, PDF, etc) over the years as well. There are many versions of WCAG, with version 2.0 categorized into three levels of conformance: A (minimum), AA (mid-range), and AAA (highest). Both Section 508 and AODA must meet WCAG 2.0 AA as their compliance requirement.
Accessibility in Adobe Pro
Adobe accessibility checker isn't specifically checking for WCAG 2.0 AA compliance. It does validate many WCAG criteria, but passing the Adobe checker doesn't mean the document passes WCAG 2.0 AA. Some items can't be checked, and other items can be complex and might not apply to all accessibility standards. So if you don't pass the Adobe Pro accessibility checker: You have a lot of remediation to do. If you do pass the Adobe Pro accessibility checker: You probably still have some remediation to do.
Don't be mad at Adobe/ArcGIS Pro (that Pro-ism didn't escape me), there are more than 2 accessibility laws in this world and many accessibility guidelines. Providing tools to help us along our accessible journey is what we are looking for.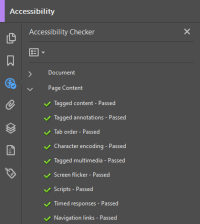 ArcGIS Pro and PDF Layout Accessibility
Oh yeah, the original article title. Based on the information above, what I'm really talking about is using ArcGIS Pro to create WCAG 2.0 AA PDF layouts. And now we know, ArcGIS Pro and Adobe Pro can help get us started, but can't get us there like an Uber. Although great tools such as the color vision deficiency simulator do highlight the efforts Esri is making in this area.
Esri does have a few good blog articles, help documents, and demonstrations on using ArcGIS Pro to generate accessible PDFs. I'm honestly grateful they are bringing attention to the subject and adding related functionality. They also do a good job of NOT saying "WCAG 2.0 AA accessibility". It may look synonymous, but there is purposeful separation.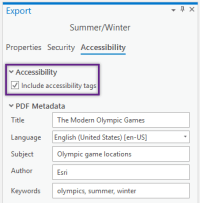 Is WCAG not possible in ArcGIS Pro?
*It is possible, but not by using regular ArcGIS Pro layout elements (scale bar, north arrow, legend). And other elements that do have tag structure aren't complete (tables, headings). Tag types, tag order, and changing the order isn't available at this time either. So it might be possible - but keep a copy of Adobe Pro for the time being.
Now What
If Section 508 or AODA apply to you - let's celebrate Esri and Adobe for their accessibility efforts so far. They are making improvements and this does make our job easier when remediating PDFs. Once we export our maps to PDF, we run the Adobe Accessibility checker to fix obvious issues. Then we dive deeper into the remediation and continue on our journey.
I'm hoping to post a second article on this topic where I get into the map layout remediation process in the near future.
Helpful Links
Cover image: Photo by Fauxels on Pexels. Modified Feb. 20, 2023.