ArcGIS Collector 10.3 for iOS
It's finally here. With little fanfare (relative to Apple Watch and the all-new MacBook earlier this week), the iOS release of ArcGIS Collector 10.3 has finally arrived. A little surprised there was no mention on Esri's blog - although to be fair, there might be some Dev-Summit hangovers. Regardless, the update finally appeared in the App Store (in Canada).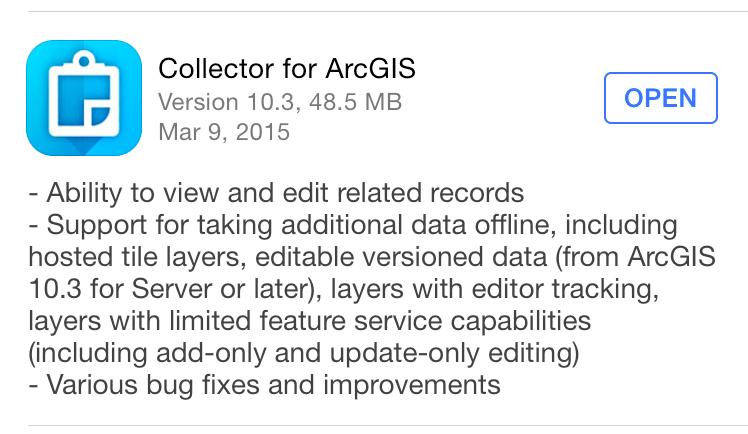 ArcGIS Collector 10.3 for iOS
As previously mentioned, ArcGIS Collector 10.3 includes the much requested ability to view and edit related records, as well as the ability to edit version data, and some enhanced settings for "Add-only [new]" or "update only [existing]" editing options.
iOS 7 or later is required for this latest version, and some of the new features will require the data be published using ArcGIS for Server 10.3 or ArcGIS Online. Even if you don't use these new features, there is a long list of bug fixes included and well worth the upgrade (< 50 MB).